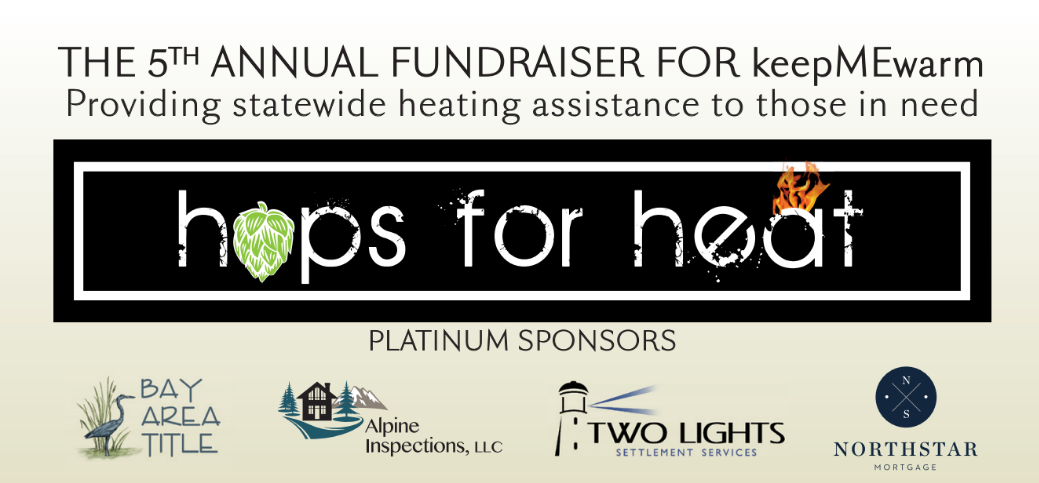 ANNUAL FUNDRAISER
Hops For Heat was started in 2017 by Landing Real Estate to raise funds directly for the keepMEwarm program through the United Way of Greater Portland which provides emergency heating assistance through a statewide partnership of Maine's United Ways and Community Action Agencies. Donations are distributed through a formula based on federal Low-Income Home Energy Assistance Program (LIHEAP) percentages and population, and are used to assist individuals directly, or designated to local organizations that provide emergency fuel assistance, including faith-based programs and nonprofit agencies. keepMEwarm is the only statewide fuel assistance fundraising effort in the state of Maine.

2021 EVENT
Virtual Raffle Calendar – Month of March
$10/ticket, buy as many as you'd like!
Winner chosen every day – tons of great prizes
Contact us for more information about purchasing options
2021 SPONSORSHIPS
PLATINUM
Two Lights Settlement Services
Northstar Mortgage
Alpine Inspections, LLC
Bay Area Title
GOLD
Mr. H20, Dunbar Water

Batson River Brewing & Distilling
SILVER
Fabian Oil
MetLife – Nichole Hamm
Dolby, Blais & Segee
Intermed, PA
ServPro
Every year we do this in person at a local brewery, however, this year is a little different so we're keeping everything virtual. We provide 100% of the proceeds to the keepMEwarm program.

INTERESTED IN PURCHASING RAFFLE TICKETS?
If you would be interested in purchasing raffle tickets for your chance to win, please email us your contact information and how many tickets you would like. We can then let you know how to proceed with payment!
INTERESTED IN SPONSORING OR DONATING?
Please reach out to let us know if you would be interested in learning more about our sponsorship or donation opportunities. Your donations will help raise money for this worthy cause, and it wouldn't be possible without the generous donations from our community!